First registered with the State of Utah in 2002 and receiving official IRS 501(c)(3) non-profit designation in February of 2007, Friends in Need's origins are intimately tied with the lives of our founders – Kim and Karen O'Donnell (pictured at right).
As members of the Eagle Mountain community when it was just a small town with big plans, Kim and Karen lived on Lake Mountain Road away from most other people on a 5-acre plot of relatively barren land "without a whole lot going on".  Initially starting by taking in abandoned dogs and cats, Kim and Karen first worked to build dog runs, enclosures, and solicit donations to help with what seemed an overwhelming problem of abandoned animals in their small community that needed care and a home.
Quickly realizing that care for rescues needed to expand beyond just small pets and animals, Kim and Karen opened their home, lives, hearts, and entire property to the purpose of animal rights and rescue for over two decades – dog or cat, native bird and mouse, or even water buffalo, emu, Patagonian cavy, or yak – all were welcome at Friends in Need and the organization that serves over 250+ animals and hundreds of volunteers, was born.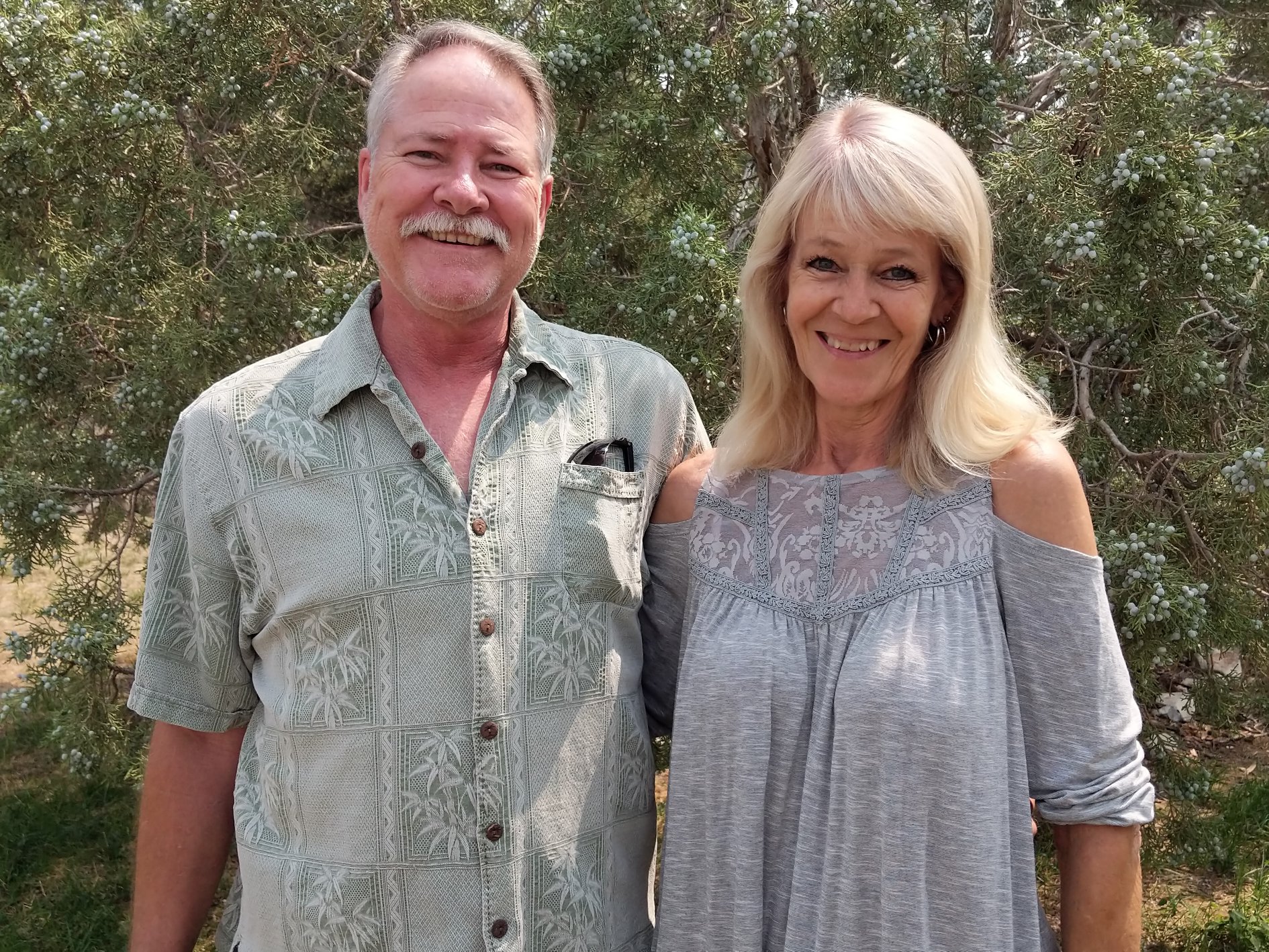 "Yes, definitely, and we would love to take them in. No one was going to." – Karen O' Donnell
2002 - 2010: Realizing the Vision
Kim and Karen's initial ambitions were met by the cold hard winds of reality. Eagle Mountain was a growing community, and with that growth came a litany of issues affecting animals and humans alike.  Funding for the new venture was scarce or nonexistent – much of the initial funds for feed, enclosures, and proper care was given through private, small donation, a cadre of willing and dedicated volunteers, and from Kim and Karen themselves.  Where money fell short, time, hard work, and ingenuity replaced it – and as the years wended their merry way inexorably forward, more and more animals and volunteers came to call the property home.
As the vision took shape, Kim and Karen helped ensure that although there are many zoological organizations, farms, and other places of agriculture, that Friends in Need needed to differentiate by being something different – a place of refuge for our animal friends, where they could live out their life to its conclusion as a no-kill sanctuary (and became one of the first organizations to join the No Kill Utah Network initiative).  Performing this feat while taking in larger animals, including llamas, goats, sheep, horses, pigs, and others, with their higher costs and requirements for care was no small task – but where difficulties lay, no sacrifice or challenge was too great for Kim and Karen and their growing family of dedicated team members to work with the best resources they had to meet them.
"We are simply a group of people who care about the treatment, health and welfare of all animals. We come from different backgrounds, but join together in the rescue project." – FIN Volunteer
2010 - 2020: Growth (and Yaks, Cavvys, and a Water Buffalo)
As the growth of the organization continued, Friends in Need quickly passed the 50, and then the 100, and then the 150 mark of animals on the 5-acre property.  Resources were always scarce, but at times through sheer will alone, Kim and Karen always made sure to keep reaching out to the community to provide food, shelter, and companionship for their little community.
And what a community that became – by the time of Kim and Karen's pending retirement, Friends in Need actively housed or was currently housing a staggering varieties and types of animals including:
Llamas
Emus
Goats
Pigs
Rabbits
Chickens
Turkeys
Water buffalo
Yaks
Geese
Ducks
Sheep
Cavys
Peacocks
Dogs
Cats
An impressive accomplishment.
As the care of the animals grew, so did the team to manage it – volunteers stepping in and adding to the engine that Kim and Karen had started to begin making the organization more and more of their own. The kindness of these volunteers in their time and effort was and is remarkable, and ultimately has become the engine that continues to drive Friends in Need to this very day.
"I've never seen a place that is so completely driven by volunteers and community. Everyone pitches in. Everyone helps. I love it here." – FIN Volunteer
2020 - Present: Transition, and Onward and Upward
As 2020 approached – unknowingly bringing with it the herald of the coronavirus pandemic – Kim and Karen were presented with multiple health challenges that ultimately meant that it was time to retire.
By this time, the Eagle Mountain community had grown substantially.  The land that now housed these beautiful animals had become valuable for developers and development, and the property had sat on the market for some time as Kim and Karen fought hard to make sure that anyone purchasing the property would agree to keep the animals there and, hopefully, keep the sanctuary going.
Through a series of unusual circumstances, Kim and Karen were able to be introduced to new buyers for the property who agreed to keep the nonprofit going and do their best to fill some very big shoes in care.  Volunteers from the community came in to help, and in present day, literally hundreds of people each month come out to feed, spend time with, and care for the animals as volunteers, with thousands more each year that come help create a 100% volunteer-driven, service-oriented self-sustaining sanctuary with one-of-a-kind experiences with plants, animals, and sustainable agricultural and zoological experiences to be found nowhere else.
From our humble beginnings, we hope the next decades and years beyond that can continue to be spent to grow Friends in Need to be able to care for more animals and serve more and more people and communities in a self-sustaining way.
As Karen once said, "Yes definitely, and we would love to take them in. No one was going to."
If you've been part of our past, we invite you to be a part of our present.  If you're part of our present, we hope to see you in the future. And if you haven't been a part of FIN past, present, or future – schedule your visit today and be a part of this little-engine-that-could dream that is fast becoming a landmark reality in the Utah community.
With love,
Friends in Need Animal Sanctuary
P.S. A picture is worth a thousand words…here's not-quite-a-thousand pictures from volunteers throughout the years to help tell the Friends in Need story.
See you soon!